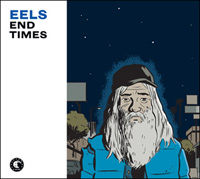 (picture via Eels website)
New Eels album,
End Times
comes out 1/19. It was recorded mostly on a 4-track in frontman Mark Oliver Everett's basement. According to the Eels website,
End Times
is an album about divorce, but also about "the state of the desperate times we live in. The bottom line-ness of it all. The end of common decency. The loss of caring about doing a good job." The sample track, "Little Bird", has a feeling of sadness and apathy, and a very raw sound, in line with the recording method. Somehow the rasp in the singer's voice really pushes the emotion in a way that really heightens it. Only 6 months after their last album,
Hombre Lobo
, and in a completely different direction. Impressive, but more importantly, beautiful.
Little Bird - Eels